Tomorrow, 
the Dallas Museum of Art will host an all-out celebration called 
Frida Fest in honor of the
 Mexican artist for what would be her 110th birthday. 
Presented by the DMA and the Latino Center for Leadership and Development, the Fridamania will include a dance performance by Dallas Black Dance Theatre, complimentary Frida-Inspired makeup by Reina Rebelde and a menu with margaritas on tap (yes, seriously). In addition to all of these festivities, Frida fans can get $6 off special exhibition tickets to the DMA's México 1900-1950: Diego Rivera, Frida Kahlo, José Clemente Orozco, and the Avant-Garde exhibit. But the most fun, interactive element of Frida Fest is the Guinness World Record attempt for the largest gathering of people dressed as Frida Kahlo.
Worry not, we're here to help you get the perfect Frida look! Each of the following are items participants must have to be part of this record-breaking affair.
"A unibrow drawn onto the face joining the eyebrows; this can be done with makeup or by sticking hair."
Obviously, this is not a look most of us wear on the reg, but when done right it's almost as gorgeous as the iconic paintings by Khalo herself. here are a couple ways to achieve the iconic Frida brow. Products we recommend to achieve the look are Benefit BrowZings Eyebrow Shaping Kit and M.A.C. Lipstick in Ruby Woo.
"Artificial flowers worn in the hair; a minimum of three artificial flowers must be worn."
This is where you can get a little more creative, you while you can buy pre-made flower crowns, you may want to take the option to make your own. Below is a fun video on how to do just that!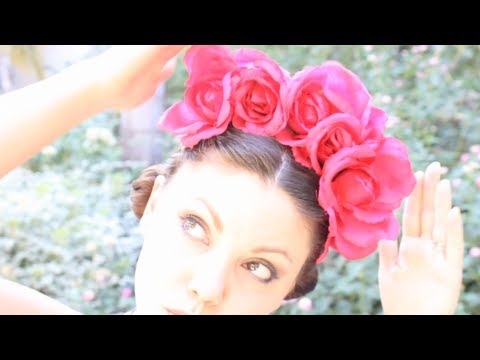 "A red or pink shawl."
Maybe the least exciting part of the costume as it's fairly set in stone, but you can get a cute scarf you'll be able to wear when you're not Frida-fied. This Cashmere & Silk Wrap from Nordstrom comes in four shades of pink.
"A floral dress."
This is something all of us probably own in one form or another. Just remember it has to go below the knee with no slits! This pretty number from Nordstrom has just the right fit.
Follow these rules and we'll see you Fridas at Frida Fest! For more information on the event or contest, visit
www.dma.org/programs/event/frida-fest
.
Image 1 courtesy of The Black and White Edit. Image 2 courtesy of Answers from Men.