You look at your calendar and realize your special beach trip is two weeks away. Before you scramble through Pinterest looking for quick recipes or tricks to lose those extra pounds, just stop for a moment. Let's be honest. No matter how much you exercise or diet you'll never reach your weight loss goal until you make lifestyle changes. So where do you start? Look in the mirror, it starts with you. Today we're here to serve up a slice of self-love, courtesy of our girl crush Ashley Graham, her swimsuit line Swimsuits for All and her book "A New Model: What Confidence, Beauty & Power Really Look Like."
Start by appreciating every curve, bump, dimple and mole you were born with. The moment you realize you're beautiful regardless of what you call flaws is the day you begin to become the best you. Framing a healthy mindset is the first step to losing weight and becoming fit. When you begin to love yourself, you start to naturally make healthier choices because you are encouraged to take care of what you have.
Just like one the world's popular supermodels, model Ashley Graham had to own herself. She needed to realize her self-worth and potential was greater than her own skin. She had to learn to not let her body rule her life; even though it's the vessel for her career. The moment she accepted herself, stopped conforming to the parameters of others and finally took control for what she wanted, she bloomed into this gratifying success story.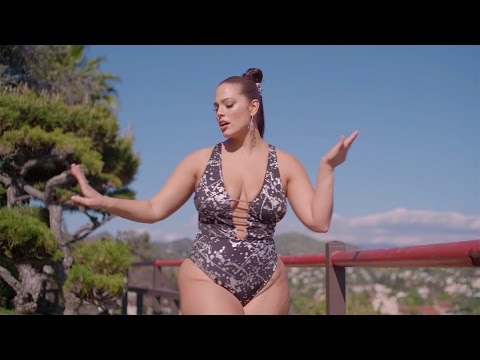 Notably one of the biggest history makers in the fashion industry, she has graced the covers of Vogue, Sports Illustrated and more, shattering our perception of what makes a cover star. Graham unapologetically embraces her curves and flaunts her vivacious spirit. The industry has undoubtedly given her a roller coaster of disappointments and wake-up calls but it wasn't until the cancellation of her infamous Lane Bryant commercial when she turned sour fruit into something sweet.
Witness Graham's dynamic journey as she struggles with mastering relationships with men, food, financial obligations and time management to appreciate every important moral value her mother established for her as a child. "A New Model" is an intimate glance into how the beauty icon reached stardom but more invaluably learned the true meaning of responsibility and using your platform to help others reach their destiny. Not only has she secured her place as an expert in lingerie but she has learned how to exercise the power of beauty.
As we prep our bodies physically through yoga classes, cycling and HIIT, let's attempt to refresh our minds about what is truly beautiful. Reading "A New Model" will give any average woman the inspiration to appreciate her body. Through her book, Graham proves with optimism, perseverance and faith you can gather the strength to take hold of what you want.
"If there is something about you that you like, show it off," she says. "If you think you look good, others will too."
Pick up your copy of "A New Model: What Confidence, Beauty & Power Really Look Like" in stores now. Be sure to check out the Ashley Graham x Swimsuits For All 2017 Collection online.
Image 1 courtesy of Swimsuits for All. Images 2 and 3 courtesy of Ashley Graham. Image 3 courtesy of