Earlier this summer, we announced the upcoming date of one of our favorite annual events:
Fashion for a Passion
. A project of
Against The Grain Productions
(ATG), this dynamic, multi-faceted Dallas show not only raises awareness of the Asian American art community, but showcases some of the very best local talent in fashion design.
As we delve deeper into this exciting production, we decided to meet up with ATG ambassador and Fashion for a Passion 2014 co-host Elizabeth Dinh for an afternoon of shopping and girl talk. A reporter for
CBS 11
, Elizabeth connects her viewers with the latest breaking news and fascinating feature stories. Also a North Texas native, she's passionate about supporting the community - in more ways than one.
Arriving casual yet stylish at Henderson Avenue's new
Warby Parker classroom boutique
, the petite and bubbly journalist was ready to dive in and shop the latest in women's specs and sunnies. Effortlessly gravitating towards the classic cat-eye "Piper" sunglasses, Elizabeth spilled exactly what goes into her signature style. "I feel like my style is a little bit of everything. I really do like to wear the funky, cool, and newest jeans, or something fun to go out," explained the self-confessed clothing chameleon. "However, there's that balance, because sometimes fun clothing will not translate for my work as a reporter. So, I try to find those investment pieces, and it's worth the spending so that I can do both."
After deciding on the "Piper" shades, Elizabeth moved on to some of Warby's eyewear, including red boxy-framed specs and an alluring purple style. Her picks offered insight into her willingness to experiment with fashion. We next asked about our new shopping buddy's favorite places to browse, and of course, her top designer brands. "
NorthPark Center
is definitely my favorite place to shop," Elizabeth revealed. "As far as designers are concerned, I love Diane von Furstenberg, Milly, and of course helping out local designers and shops when I can. By the same token, I love Gap and Banana Republic when they're having good sales." Following our eyewear adventure, we moved outside to bask in a rather unusually cool Dallas summer afternoon. As we settled in, Elizabeth dished briefly on her involvement with Fashion for a Passion, and surprisingly, a newfound zest for life after a severe health crisis.
DFW Style Daily: Which designers are you looking forward to seeing at Fashion for a Passion 2014?
Elizabeth Dinh:
"
Becky Hollands
is great, and her line is ideal for work and play. I'm also excited to see what the event's first-ever jewelry designer,
Brandy Pham
, will be showing. Looking at a few of her pieces
online
, I like her chic yet classic styles. I can't wait to try some of her rings and necklaces on at FFAP!"
Which designer will you represent in your own wardrobe as co-host for the event?
"We'll just have to wait and see. Last year I did three outfit changes. It was kind of crazy!"
Your involvement with ATG is admirable, and we have even more admiration for you in light of your recent struggles. What is your current health status?
"I was diagnosed with IgA Nephropathy in 2010 right before Thanksgiving.  It's called kidney disease, but 'disease' sounds so scary. I had just turned 30, was on my third job out of college, and ready to take on the world when I received this diagnosis. My kidneys were working at 13% function. Kevin, my husband, ended up being a match. I received the kidney in June 2012."
How has your outlook on life changed?
"It helped my outlook on life, because now I feel that, although sometimes things don't go the way I want, I'm still very ambitious and a big dreamer when it comes to my career and life. I also hope to be a mom one day. When it happens, it will happen, and I just try to enjoy everything in front of me. I'm the opposite of 'Debbie Downer.' I'm so thankful to breathe air into my lungs."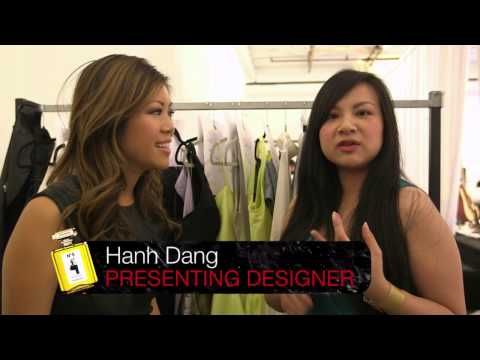 This young and vibrant reporter appeared healthier than ever during our stylish shopping trip on Henderson Avenue. We can hardly wait for her co-hosting appearance at Against The Grain's Fashion for a Passion 2014. For more information, view the FFAP 2013 highlight reel above and visit
AgainstTheGrainProductions.com
.
Images via Facebook.com and AgainstTheGrainProductions.com